Bed Frames for Every Style
I am on a kick to want to redecorate my entire house. While this is not going to happen any time soon, I would like to redecorate my master bedroom in within the next year. We have the same furniture we bought twenty years ago when we got married. Interestingly enough, it has a rustic style which is on trend right now (all styles come back around some time). However, I am aching to redecorate our space. Especially now that it also serves as my office.
This got me to thinking about what style I would like and what furniture I would buy. For starters, I will not be buying a matching bedroom set. Rather, I intend to buy items that, in their own right, add something to the space. Not only does it avoid the "furniture store showroom look" but it also will reflect our personalities. The first place to begin is the bed. It will be the largest piece in the room and should dictate the style for the rest of the space. There are many great styles to choose from whether upholstered, metal or wood. Here are some I am looking to for inspiration.
The upholstered back and nail head trim are what I am drawn to. I am not sure about the blue however, it would be unique. If not blue, then possibly grey.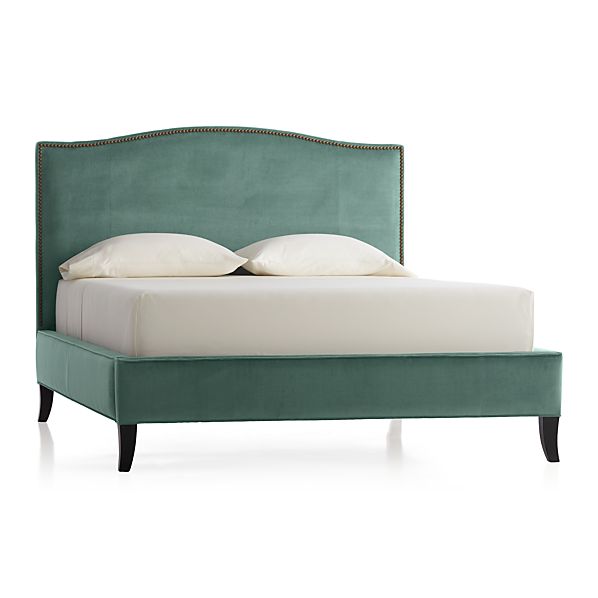 Crate & Barrel
If I want a more industrial chic style, this is a great option. I like the metal frame and wood combination. Although a bit masculine it could be softened with the right bed linens.
This bed is definitely more on the feminine side. I love the shape of the headboard and the resting bird. It is a great blend of traditional and shabby chic.
I have always dreamed of a canopy bed ever since I was a little girl. This one has clean lines and a beautiful wood frame.
This metal framed bed has gorgeous lines. It is a great blend of masculine and feminine style and mix of traditional and transitional.
This has been one of my favorite bed frames for a long time. I love the turned posts and interesting shaped back. Although traditional it has a modern edge. The color is great too.
Whatever style I choose I am sure to find a bed frame to match. In the end, you can be sure that my completed room will have a mix of styles and colors to keep things interesting.
What is your favorite? I would love to hear from you.